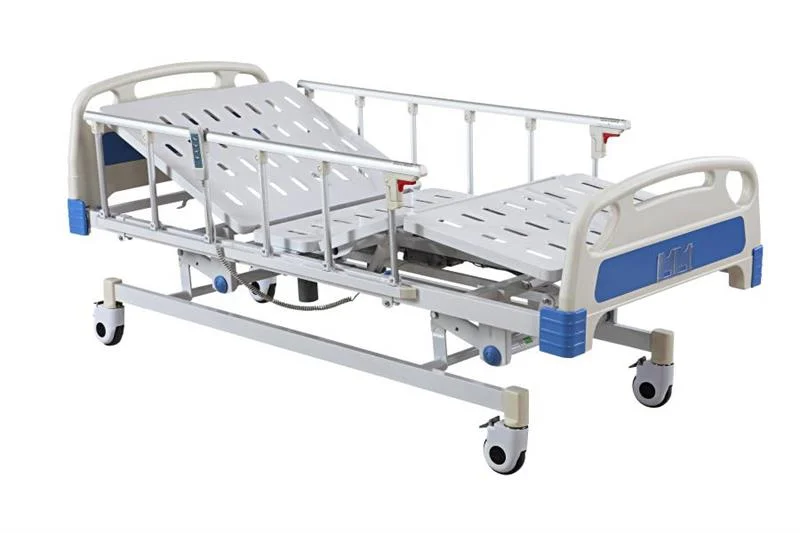 Why choose a hospital bed ?
Hospital beds are designed so that you can provide a loved one with top-quality care.when a person is recovering from an injury or needs to spend a large amount of time in bed.

A hospital bed is designed to provided a stable,safe,and comfortable environment for a person to rest,heal,recover,and receive care at home,Different from the traditional bed offers greater security and positional Versatility,allowing the head and foot sections to be raised or lowered and the height of the bed to be adjusted.
Full Electric hospital bed
Full electric adjustment of both the bed sections and the height makes life easier for both patients and caregivers alike,which is why the full-electric hospital bed is a type of bed typically used in medical facilities
Patients can easily make bed adjustments independently with the touch of a button
Ideal for use in almost any care environment for any patient
'
s needs
Great solution for patients who need frequent adjustment or older caregivers with less physical strength
Backrest function
Backrest to be raised or lowered
Footrest function
Footrest to be raised and lowered
HI-Lo funcion
The height of bed to be raised and lowered
High/low feature that adjust to meet the ideal height for the both the patient and caregiver
Sit position (Fowler
'
s position)
this position places users in semi-upright posture(45-60 degree) with the legs either straight or bent,and is used as an intervention during respiratory
3 function Electric hospital bed with aluminum side rails
Feature:
ABS head&foot board
Aluminum side rails
swivel 5" castors with brake
Full electric
4 sections bed platform
work loading:275kgs
Model:BT603E
Size:2130*970*430-83
0mm
Function:
Back-rest titling:0~80
°
±
5
°
Foot-rest titling:0-45°
±
5
°
Sit position(fowler position)
Hi-Lo :430-83
0mm
Accessories:
1,4pcs silent castors with individual brake and 4pcs dust cover
2,1 pairs aluminum side rails with 6 gears
3,1 set ABS head and foot board
4,4pcs I.V pole holes
5,4pcs Urine hooks
6
,1 set of motor system(1pc hand set,1pc control box,3pcs motors)
7,1pc cable and plug holder
Specification:
Size:2130*970*430-830mm
Length:2130mm
Width:970mm
Height:430-830mm
Bed board size:1950x840mm(LxW),thickness:1.2mm
Side rail size:1500x415mm(LxH),weight:3.8kgs
Frame tube size:30x60mm,thickness:1.5mm
ABS head and foot board weight:2.5kgs/pair
Castor size:5
"
(12.5cm),weight:4.22kgs/4pcs
Capacity weight:275kg
Others:
Package:packed by 5 layers K+K carton,1pc/ctn
Packing size:2050*950*320mm,
1x40HQ=110pcs
D
elivery time:
35-45
days
Warranty:1year