Specification of this Electric Automatic Full Body Shiatsu Carbon Fiber Infrared Heating Jade Massage Table with Tourmaline Stone:
Main Features:
> 5 warm jade rollers for neck, head and lumbar massage. S-shaped Drive Rail to follow the contour of your spine.
> Whole body carbon fiber heating for ultimate far infrared therapy.
> Heated tourmaline mattress (on lower section) has five major benefits for human body:
a. Release of 4-14um high energy Far Infrared Rays.
b. Release of negative ion permanently.
c. Generate 0.06ma bio-current.
d. Rich in minerals and elements.
e. Eliminates body odor and kills bad bacteria.
> 5 & 11 jade projectors for whole body infrared therapy.
> Manual mode: you can stop the roller at any position for spot massage.
Auto mode: 1&2. whole lumbar; 3. buttocks & waist; 4. waist; 5. Upper back & shoulders; 6. neck & shoulders.
> Back tilt.
>>> Advantages <<<
1. Heated tourmaline stone has benefits for human body.
The tourmaline stone can give out various kinds of useful micro-elements such as zinc, copper, iron, manganese, magnesium, cobalt, tin, selenium, nickel, kalium, calium, natrium and provide infrared ray after heated. The rays not only benefit the muscle on the surface but all cells including blood vessels, lymph glands and nerves in the deep parts of our body.
2. Back tilt.
Back tilt function makes it easy to get off the bed.

Technical and Packaging Parameters:
| | |
| --- | --- |
| Upper Section Jade Rollers: | 5 Pieces |
| Carbon Fiber Heating: | Whole Body |
| Tourmaline Stone Mattress: | On Leg Section |
| 5 & 11 Ball Jade Projectors: | Included |
| Temperature Range: | 30-70 Celsius Degree |
| Back Tilt: | Yes |
| Massage Modes: | 6 Automatic Modes & One Manual Mode |
| Rated Working Time: | 40 minutes |
| Rated Voltage: | AC100~240V |
| Rated Power: | 120w |
| Master Box Quantity: | 1 Piece in 2 Cartons |
| Master Box Size: | 125x66.5x31.5cm / 129x64x23cm |
| N.W. / G.W.: | 73 / 77 KG |
| Container Loading Quantity: | 20': 60, 40': 120, 40'HC: 148 |
| Certificates: | CE, RoHS, |
Product Images: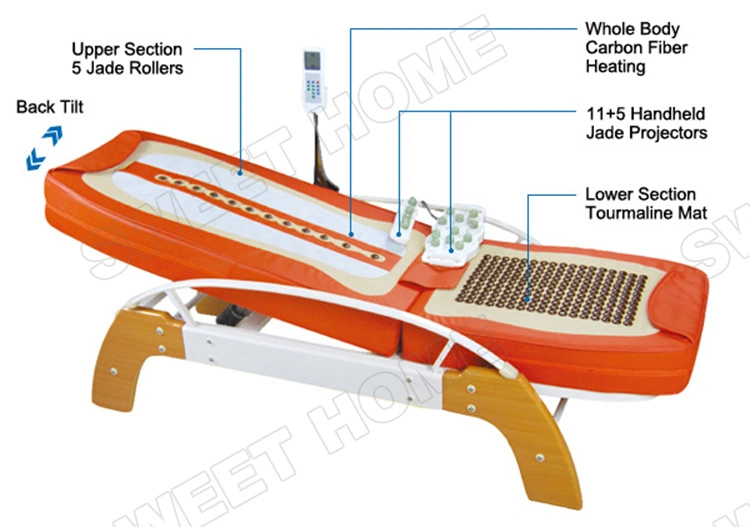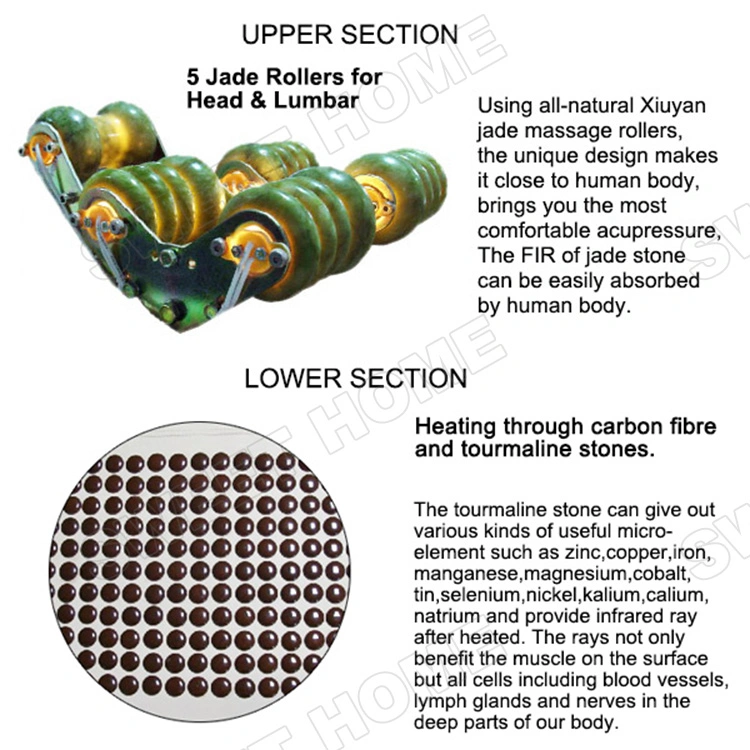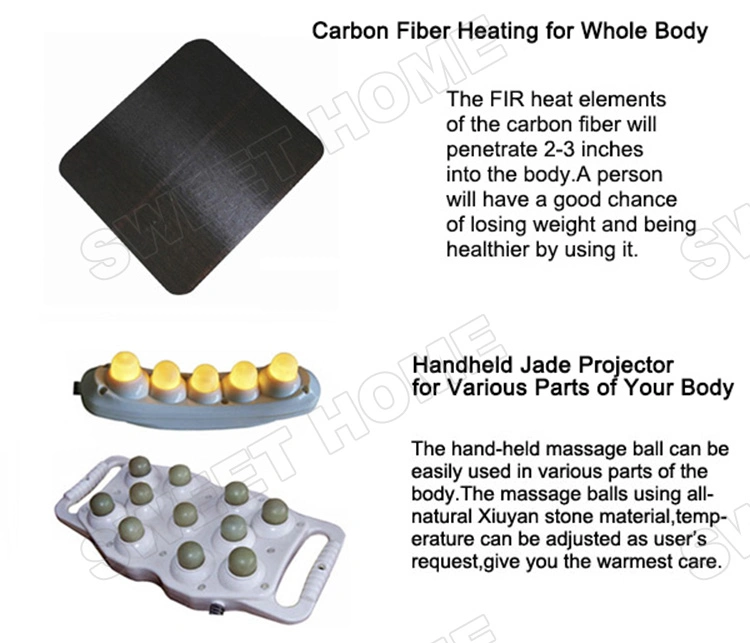 You May Like: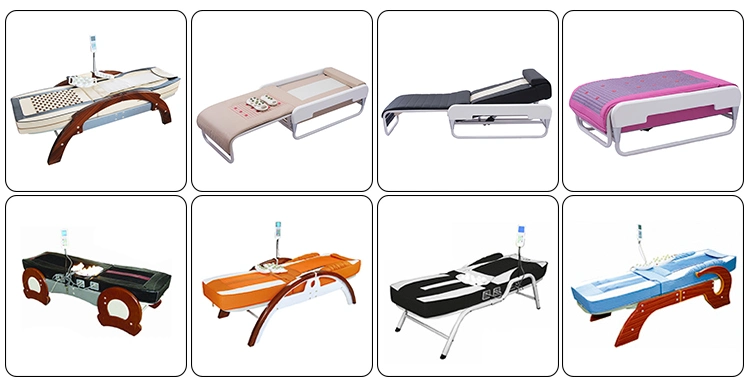 Our Company

: